Tennis Travel Destinations!
Tired of winter already? We've got some suggestions on getting away from the dreary weather and having a great tennis vacation. Here is the first installment of our guide to top tennis resorts in the US.
Boca Raton Resort & Club, Florida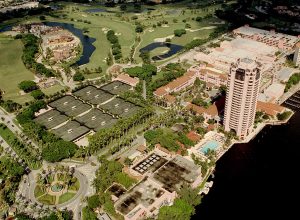 Find out what vacation rentals in Florida are renting for!
Boca Raton Resort & Club, is in southern Florida and features 1,047 rooms just off of Lake Boca Raton. Among its tennis highlights, the resort prides itself on its eighteen Hydro-Grid courts that use a subsurface watering system to maintain a court that gives and optimizes play. A dedicated tennis concierge helps reserve court times, and assists in starting up matches. They can also personalize a tennis program for each guest, cherry picking from the five daily clinics, the club's tennis aerobics, and exhibition games.
Another feature we will be offering periodically will be tennis gear and related merchandise deals!  Check Holabird Sports for great deals!
Tennis Tips-click title to see entire post
One of the best ways to win points in tennis is to recognize and put away short balls(balls that bounce around the service line.) When you see a short ball immediately go on the attack. Move forward into the court, turn your shoulders, but keep your body facing toward the net. Keep your opposite hand …
Continue reading "Attack the short ball-forehand approach shot"
This week we revisit the lob…as an option for your service return. The lob return is a great option for a serve to your backhand, especially against serve and volley players, and if your backhand return is a little weak. The stroke is pretty simple but lets look at a couple of focus points. Move …
Today's tennis tip is more of a gear tip. Holabird Sports has some limited specials we thought we'd share. Today only, get 50% of Saucony Triumph ISO 3. Follow the link below. And while supplies last…. $10 Off Each ASICS GEL Nimbus When you buy 2 or more pair! @ Holabird Sports Huge Savings On …
Follow us on the social media stream of your choice!
And/or sign up for our  mailing list below for tennis tip reminders and other great info.