Tennis Travel Destinations!
Daniel Island South Carolina, just outside of Charleston is a premier tennis destination with a premier southern city destination next door.  Named after its former inhabitant, the colonial governor of the Carolinas, Robert Daniell, the island is located between the Cooper and Wando Rivers. The Family Circle Tennis Center is a public tennis facility and home to the Volvo Car Open, held in March – April  every year.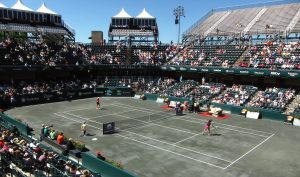 This award-winning public facility is first class in every sense of the word. With 20 championship tennis courts (14 clay, 6 hard and all courts lighted for night play), the Tennis Center is a 32-acre state of the art facility highlighted by the 10,200 seat Family Circle Stadium. A unique 10,000 square foot Clubhouse serves as the hub of activity on a year-round basis. The first level of the Clubhouse features the Tennis Center Pro Shop. The Pro Shop offers a multitude of amenities for club members and patrons, including tennis clothing, luxury locker room facilities, rackets, accessories and professional stringing services. The clubhouse also serves as the corporate headquarters for the Volvo Car Open. Overlooking the majestic Althea Gibson Club Court and a stone's throw from the water, the Clubhouse mirrors the traditional, architectural charm synonymous with the South.
Another feature we will be offering periodically will be tennis gear and related merchandise deals!  Check Holabird Sports for great deals!
Tennis Tips-click title to see entire post
All of us want to have textbook strokes, and awesome form and power in all our shots, just like the pros. If we did, we would BE pro tennis players. In reality we all have less than perfect strokes, physical limitations, etc. Thus the subject of this post, Working with the tennis game you've got. …
As the weather gets cooler and league tennis slows down, it's more important than ever to mind your fitness. Use the following check list, your own judgement, and some exercise Googling to keep yourself in shape and injury free. Shoulder "pre-hab" exercises – the shoulder is the most stressed joint in tennis so it needs …
keep your eyes on the ball as you toss for serve    Are you having trouble with your toss? Pay attention to where you are looking as you toss the tennis ball. If you are already looking up above your head before the ball gets there, that may be the problem. You've heard of hand-eye …
Follow us on the social media stream of your choice!
And/or sign up for our  mailing list below for tennis tip reminders and other great info.